Help us come up with 17 ways to celebrate in 2017
1.We are creating a time-line wall in the breeding shed tracing the area's history and the Lilley family's roots through the last 250 years. It is a work in progress.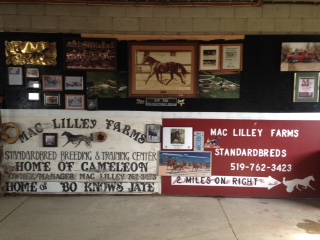 2.We will be speaking at the 'Dixon Feeds Information Night' about breeding and foaling. It will take place from 5pm to 8pm. March 28, 2017 at the St Mary's Parish Hall in West Lorne, Ontario. The event is free of charge. RSVP to 519-768-1570
3. Mac Lilley will be inducted into the Western Fair District's Wall Of Fame. There will be a special evening at the races to commemorate this event on May 12, 2017. Parking and admission to The Raceway at Western Fair District is free.
4.We are hosting a Mother's Day Open House from 1pm. to 4pm. on May 14, 2017. The wanna drive folks www.handsonhorsesprogram.com will be offering horse rides on their double seated joggers around the race track. The Glencoe 4-H horse club will be serving cake and beverages to the visitors. Bring your whole family and a camera to take lots of photos. Admission is free.
5.Andrew Campbell. The Fresh Air Farmer, will be visiting Mac Lilley Farms and taping a segment about 'A day on a Standardbred farm' in late May or early June of 2017. We will share his video when it comes out.
6. We are creating a display to commemorate the 250th anniversary of the first horse race #cdnhorseracing250 at Wallacetown Fair Grounds on June 16th and 17th (Father's Day weekend) for 'The Dunwich Scotch' production. www.thedunwichscotch.com
7. We are working on a series of commercials promoting Standardbred horses and Mac Lilley Farms These will air throughout 2017.
8. We are creating a float to celebrate 250 years of horse racing in Canada. This float will be at all the local fair parades and local Christmas parades. Please send us design ideas for this.
OK we need 9 more ideas for ways to celebrate.